The Irish Kate Barrett Historical Society began as a twinkle in the eye of a stranded Clamper in Spokane Valley, WA.  One Mr. Sean "TF Woodie" Losavio who was brought into the light at the famed Tensed, ID social event put on by the Snake River Outpost #1811 of the Lucinda Jane Saunders Chapter 1881 E Clampus Vitus in April 2010(6013 C.Y.)  Shortly thereafter finding a gentleman of similar tastes and ideals Mr Woodie brought his longtime friend and fellow baseball coach a one Mr Matt "Grape Drank" Christensen through Doc Maynard Chapter 54-40 ECV.  
During a rather exciting Mariners game they hatched a plan to one day creating an outpost and perhaps a chapter of E Clampus Vitus in the Spokane County area.(See Picture To Right, A Chance Encounter Captured This Exact Moment.)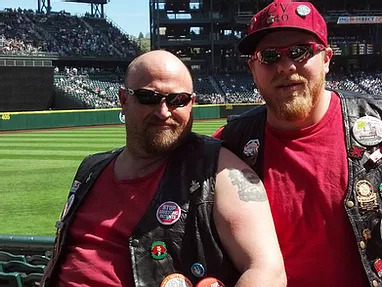 With little resources or knowledge of anything really, they forged  ahead gathering displaced Clampers from near and far(or just other people they knew) and started having monthly get togethers("meetings") at Mr Grape Drank's house.  Mr Grape Drank's Widder Racheal, supportive of these endeavors kept the would be grouip nourished with fine dinning of the kind found in the great restaurants or Rome.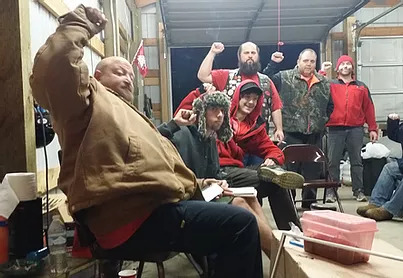 In 2011 they had gathered enough brothers to start making headway.  Their first project was at the Rathdrum Jail house in Rathrum, ID where their extensive knowledge of brick laying came in handy.  They took the bricks from the old carriage house and constructed a fine patio which still stands to this day.